Carnegie Mellon University
Farnam Jahanian
President
Dear Mr. Carnegie,
Your last visit here was on October 29, 1914, just three months after the start of World War I — a war you had worked hard, but in vain, to prevent. You and Mrs. Carnegie spent the day with Carnegie Tech students, enjoying their creations in metal and print shops and praising their performances in the just-opened School of Drama. To Carnegie Tech students that day, you were a combination of patron saint, role model, and rock star. You were the Pittsburgh boy who made it bigger than anyone, and they listened intently to your advice: "Don't think so much about money and success; focus instead on using your new knowledge and skill to make a contribution. Make life better for your family, your city, your country, and yourself. You are here to make an impact for good on the world around you."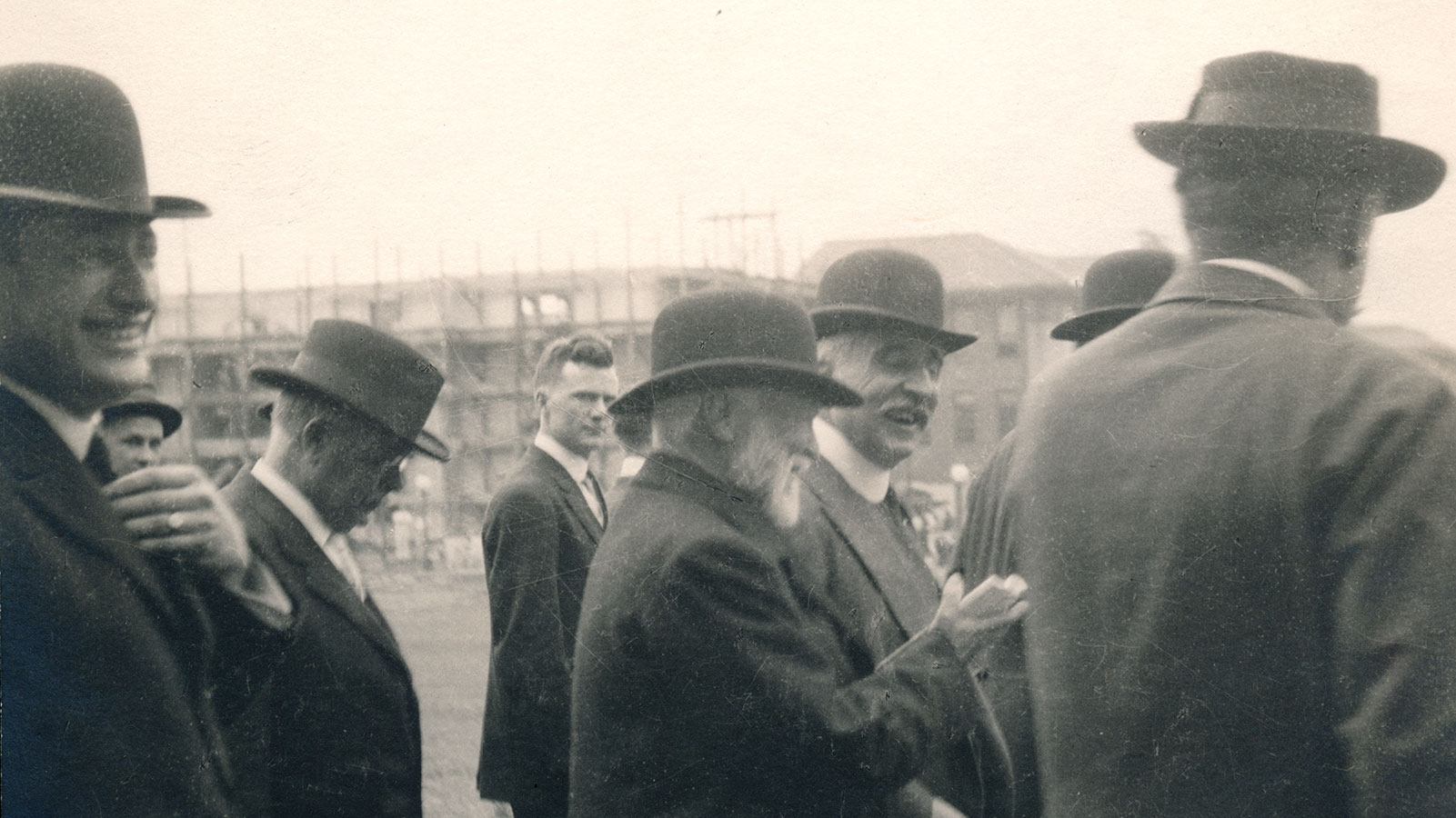 One hundred years after your death, your ideals resonate more than ever.
In 1900, when you decided to create a university of your own, you were committed to establishing a beacon of inclusive opportunity, a technical school to educate the sons and daughters of factory workers. You had a vision for an institution that would serve as an engine of economic development in Pittsburgh, the city where you made your fortune, one that brought a focus on hands-on learning as well as applied problem solving relevant to the needs of industry. You famously assured the mayor of Pittsburgh, "my heart is in the work" — a phrase that the new school took as its motto and that remains part of our culture to this day.
You might be surprised to learn that the Pittsburgh technical school you founded is ranked among the top research universities of the world, with 19 Nobel Prize winners among its faculty and graduates and more than 112,000 alumni making a profound global impact. Yet despite expansions, reinventions, new names, and new programs and locations on five continents, Carnegie Mellon is, to a remarkable extent, still shaped by your founding vision.
The world you knew in 1900 was on the verge of great change, and your school has had to change too, more than once. In 1905, you had the vision to bring creativity and industry together by establishing the School of Fine and Applied Arts within the Carnegie Technical Schools. (It would become the College of Fine Arts in 1921.) In 1912, the institution changed again to become the Carnegie Institute of Technology, with the power to grant four-year degrees in fields such as applied industry and science. Our willingness to evolve to meet the needs of a changing society continued well into the twentieth century, when Carnegie Tech merged with the Mellon Institute of Industrial Research in 1967 to become Carnegie Mellon University, a comprehensive research institution. Today, in surveying our diverse academic landscape, you would love seeing the scientists, engineers, and practitioners like those who first made Carnegie Tech famous, and you would feel equal affection for the artists, humanists, and social scientists who contribute so much to CMU's intellectual and cultural life.
Pennsylvania's steel industry, the source of your wealth, is far smaller than at its peak, but you'd be excited to know that the city of Pittsburgh is well on its way to leading a significant resurgence in manufacturing — this time using technology to make things in a whole new way. And true to your hopes, CMU is now, more than ever, a generator of fresh economic opportunity for the region. Some of the world's most well-known companies have opened offices and created jobs in the city, drawn by the talent that CMU generates. Indeed, nearly three decades after Pittsburgh was almost written off as a place whose glory days were gone, this city has become a hub for the new economy and a model for other cities. CMU has played a central role in this revival.
In honor of your mother and her belief in education, you made sure that education for women was part of the school's mission from the beginning. You would be delighted to know that today, women make up half of our undergraduate population and represent nearly 50 percent of our first-year classes in both the Tepper School of Business and the School of Computer Science, and 43 percent of the College of Engineering. These percentages are two to three times the national average for women in those fields. And almost from the very beginning, we also welcomed international students — immigrants like you and me. Today, one in five undergraduates and more than half of our graduate students come from outside the United States. Far fewer come from western Pennsylvania these days, which might disappoint but not surprise you, considering CMU's international reputation as well as the economic changes across the globe during the past century.
As you envisioned, CMU remains a strong partner with industry in preparing young people for career opportunities, but more than that, companies frequently engage with us to solve real-world problems and create new knowledge. This started early in our history when pervasive interest in human behavior inspired Carnegie Tech to establish the Division of Applied Psychology in 1916, which helped local businesses place people in the right jobs. Throughout our history, we have continued to leverage close collaboration with external partners to inspire new innovations in research and education. At the same time, the university supports a thriving entrepreneurial ecosystem, with faculty and students creating dozens of companies of their own every year — more than 300 in the last decade.
You were well known for seeking out the most recent technological innovation to improve business efficiency. You would be amazed at where technology has taken us today, and the leading role your namesake university has played in this journey. In particular, the application of information technology to problems in many fields has been core to our research since the first computer arrived on our campus in 1956. At a time when computers were barely understood, we were among the very first to recognize the power of computing, and we made some big bets. In 1965, we established our department of computer science. In 1979, we founded the first robotics institute at a U.S. university. And in 1988, we announced the first college in the world devoted solely to computer science.
"Don't think so much about money and success; focus instead on using your new knowledge and skill to make a contribution. Make life better for your family, your city, your country, and yourself. You are here to make an impact for good on the world around you."
Ours is the model that other universities follow, and the paradigm-shifting advancements developed here have had an immeasurable impact. Today, CMU is a world leader in computer science and artificial intelligence, fields that were pioneered on our campus by legends like Allen Newell, Herb Simon, Alan Perlis, and Raj Reddy. Moreover, throughout the past 50 years, Carnegie Mellon has been at the forefront of innovation in this increasingly information-driven society, creating entirely new fields of inquiry, such as machine learning, transition design, decision science, computational biology, and the science of learning. You would especially appreciate our leadership at the intersection of technology and the humanities, with economists, philosophers, and policy analysts studying the effects of these emerging technologies on society and the economy, and what they could mean, positive and negative, for equality of opportunity, liberty, and democracy.
Your school has embraced innovation in its educational approaches while setting new national and international standards, especially when it comes to interdisciplinary exploration. In the 1940s, we redefined engineering education with the Carnegie Plan, which required science and engineering students to take courses in humanities and social sciences to better understand the needs of society. I also think you would have been intrigued by the Graduate School of Industrial Administration that was created in 1949 as a brand-new kind of business school forged from interdisciplinary collaboration between economists, social scientists, and applied mathematicians. This new approach, called management science, reinvented business education for the modern era, and today is reflected in our Tepper School of Business.
Hands-on learning is still central to our educational process, just as you planned. CMU students and faculty continue to make and create at every scale, and our state-of-the-art makerspaces enable remarkable innovation. At the same time, our research and creativity serve to expand our knowledge, provoke our imagination, and push the boundaries of innovation. We are developing robots that can perform heart surgery; innovating ways to produce, store, and use energy more sustainably; building molecules that give materials complex new properties; expanding our understanding of the cosmos; creating new collaborations in technology, media, art, and design; 3D-printing human organs for transplants; integrating policy, ethics, and business to meet the demands of the future of work; and creating software that triumphs over human poker players at Texas hold 'em. (You would likely not approve of gambling, even by a robot — but as an intellectual accomplishment, you would have to admit it is impressive.) At every step, interdisciplinary collaboration is our foundation; we know we accomplish more by working together.
You were always pleased that Carnegie Tech was a fine arts school, with degree programs in applied design and architecture, art, music, and drama. Artistic achievement has not only continued, it has soared; the fine arts are practiced at CMU at a high professional level, with performances of amazing quality offered every week of the academic year. As innovations and new ideas percolate across our society, we also rely increasingly on the boldness of visual arts, music, and theater to process and understand where we have come from, and to envision where we are going. Arts students and faculty are connecting to the research mission in innovative ways, including collaborations that bridge creative thought and scientific experimentation. And our fine and performing arts graduates collect rich national honors, including Tonys, Emmys, and Oscars. Many of them, including another Pittsburgh Andy — Warhol — have decisively shaped American cultural achievement over the past century.
You would be delighted to see that Carnegie Mellon students still approach their work with passion, intensity, and a spirit of community, both inside and outside the classroom. The libraries, labs, and studios are busy around the clock, and students also contribute to our community by performing more than 200,000 hours of service each year. Student organizations thrive, from performing arts groups to data science clubs to multicultural organizations to buggy racing teams. In your honor, the campus culture embraces all things Scottish: academic gowns are lined in plaid, the school paper is The Tartan, and no CMU academic ceremony is complete without the iconic sound of bagpipes. Of course, one of the greatest traditions we've kept in your name is an emphasis on philanthropy, as represented by the Andrew Carnegie Society, a group of generous donors who help to fund scholarships, fuel undergraduate research, and invest in the student experience.
Carnegie Mellon University owns a wonderful life-sized portrait of you in your honorary role as rector of the great University of St. Andrews in Scotland. I am told it was one of your favorite images of yourself, and it now hangs outside my office. Standing in cap and gown, you seem at ease in your academic regalia, the consummate university man — but the truth is, you were never that. Although you had very little formal schooling, all your life you were hungry for learning and you had deep respect for practical knowledge and expertise.
As my faculty colleagues prepare students for careers that have not yet been invented, your bold vision, commitment to inclusion and opportunity, and insistence on pragmatic impact continue to serve as our inspiration. In the knowledge-driven world of 2019, your dream of a school dedicated to innovation, creativity, and the betterment of society has never been more vital and more alive.
When I pass by your portrait at the end of each exciting and fulfilling day of this future you envisioned, I am reminded, sir, that our hearts are still very much in the work.
Sincerely,
Farnam Jahanian
President