Partners in Peace
Carnegie Corporation of New York recognized for longstanding support of Sesame Workshop, the Tenement Museum, and the Institute for International Education
It was a celebratory spring for Carnegie Corporation of New York. Three important grantee organizations marked significant milestones, giving special recognition to the Corporation for its role in their founding and for its president, Vartan Gregorian.
Sesame Celebrating 50 Years of Children's Educational Programming
Sesame Workshop, the nonprofit educational organization behind Sesame Street, celebrated 50 years of groundbreaking work helping children to grow "smarter, stronger, and kinder," and its global social impact work with a star-studded event in May in New York City. Former first lady Michelle Obama was honored with the Joan Ganz Cooney Award, named for Sesame Street's founder. The anniversary gala featured special appearances by John Legend, Chrissy Teigen, Lin-Manuel Miranda, John Oliver, Hoda Kotb and the Sesame Street Muppets, with honorees spanning the organization's past, present, and future.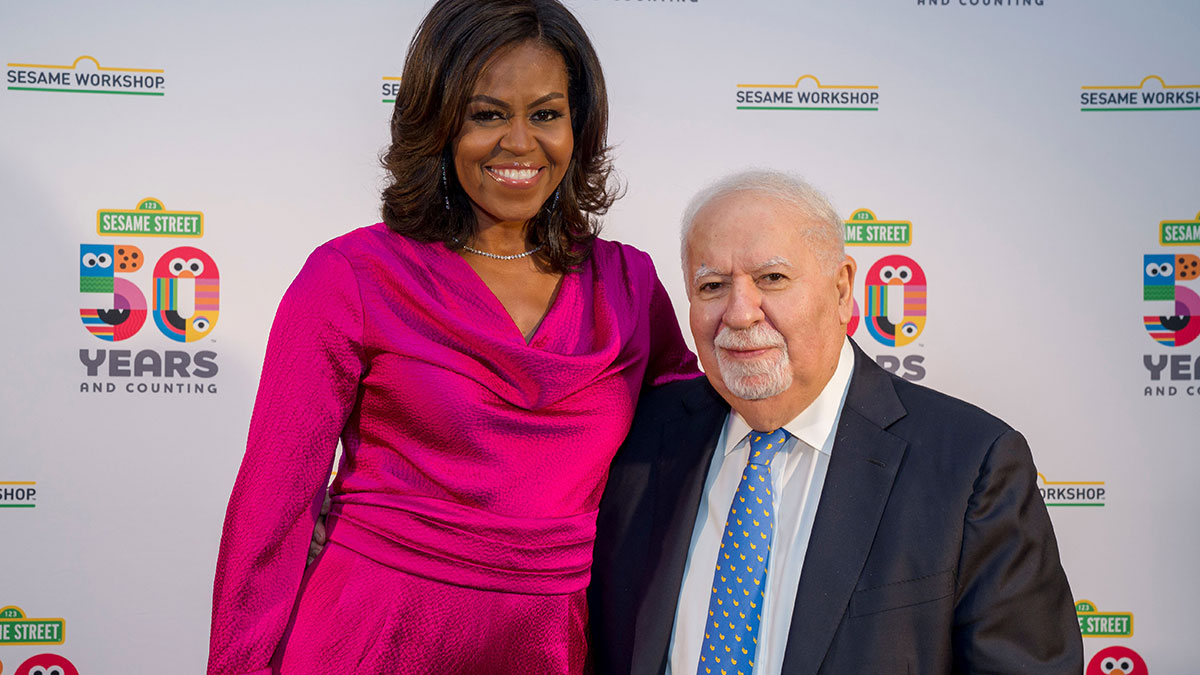 "When I became first lady, and I knew that I wanted to help kids reach their potential, my first question was a simple but familiar one: Can you tell me how to get to Sesame Street?" Obama said upon accepting the award. "I cannot tell you how proud and thankful I am to come here tonight as a Sesame Street partner. You are always ahead of the curve, always out there observing, and learning, and creating new ways to help kids and parents navigate the world around them."
In 1969, in the midst of the civil rights movement, Sesame Street was created with the hope that television be used to level the playing field and help disadvantaged children prepare for school. The founders tapped educational advisors and researchers, entertainers and television producers, and other visionaries to create what has become the longest-running children's show in American television history.
At the gala, Ford Foundation president Darren Walker and Corporation president Vartan Gregorian received a joint Visionary Award for the pivotal role the two foundations played in the development of Sesame Workshop and public television itself in the 1960s.
"In 1969 the audacious philanthropy of Carnegie Corporation and Ford Foundation made the creation of Sesame Street possible, helping to improve the lives of millions of less advantaged children around the world," said Sherrie Westin, Sesame Workshop's president of social impact and philanthropy. "Fifty years later, we're thrilled that similarly bold commitments from the MacArthur Foundation and the LEGO Foundation are helping us give millions of displaced children the tools they need to thrive."
In acknowledgement of their historic gift, Julia Stasch, president of the MacArthur Foundation, said its $100 million contribution aims to help Sesame Workshop and the International Rescue Committee bring early childhood education to children affected by refugee crises. LEGO Foundation CEO John Goodwin accepted the Innovation Award for his organization's commitment to supporting displaced children through the power of playful learning.
All of Sesame Workshop's social impact work — from providing early learning to millions of children affected by the Syrian and Rohingya refugee crises to addressing tough topics like homelessness and foster care in the United States — is made possible with the support of partners like the Corporation. The gala raised more than $4.5 million, helping Sesame Workshop reach children and families in more than 150 countries, including areas where children have no other access to quality early education.
"Sesame Street had a profound impact on children's media, setting a template that the industry has followed for generations," said Lloyd Morrisett, Sesame Workshop's cofounder. "Fifty years later, Sesame Workshop continues to deliver on its mission every day, across multiple platforms, on six continents. We started as an experiment — and it worked."
New York's Tenement Museum Looks Ahead
Also in May, the Tenement Museum in New York, which advances understanding of the immigrant experience and highlights the role that immigration has played in American history, honored Corporation president Gregorian, along with educator and filmmaker Henry Louis Gates, Jr., and philanthropist Stephen Siegel, at its 2019 gala, held in Manhattan.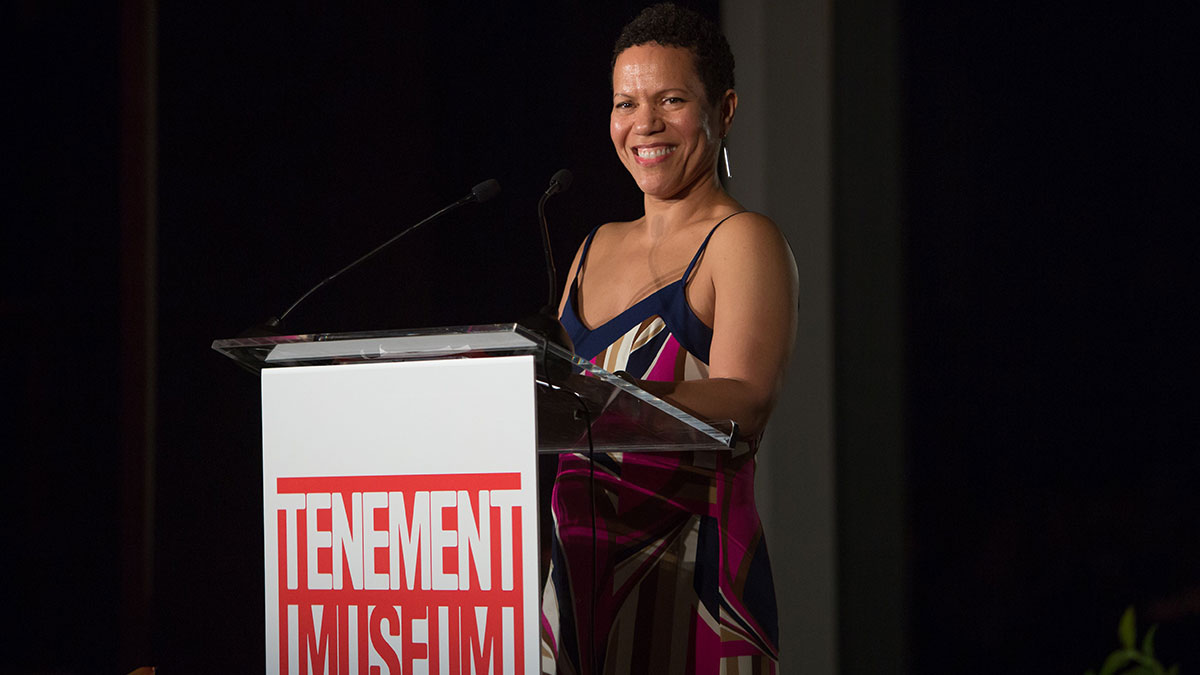 Tenement Museum trustee Nicole Howe Buggs, who also leads the Corporation's information technology and grants management departments, delivered a moving speech recalling her own family's immigration from Trinidad, and introduced Gregorian, an immigrant of Armenian descent from Iran, recognizing his work on behalf of immigrants.
"Much like the museum, Vartan brings the American immigration story to life," Howe Buggs said. "He reminds us of the connection between the past and today, the crucial role immigrants play in strengthening our democracy, and he provides insight on how past events help us unlock and decipher current events as well as prepare us for what lies ahead."
"While America is not perfect, it is perfectible."

— Vartan Gregorian, President, Carnegie Corporation of New York
She added that during Gregorian's tenure as president, the Corporation has awarded more than 300 grants, totaling more than $150 million, in support of immigrant civic integration.
Gregorian reminded the crowd that "While America is not perfect, it is perfectible."
Later in the evening, Tenement Museum president Kevin Jennings spoke about the role the museum has begun to play in the national conversation on immigration since the launch of its five-year strategic plan at the previous year's gala.
"Our goal is to reach millions, not thousands, with our message, and to help change the terms of the national debate on immigration," he said.
IIE: Shaping Scholarship Around the World
In February more than 500 leaders from higher education, government, and diplomacy gathered in New York City for three days to explore the future of international education. The summit was one of several programs that celebrated the centennial anniversary of the Institute for International Education (IIE), an organization known for its prestigious Fulbright scholarship program and supported by the Corporation since its inception 100 years ago.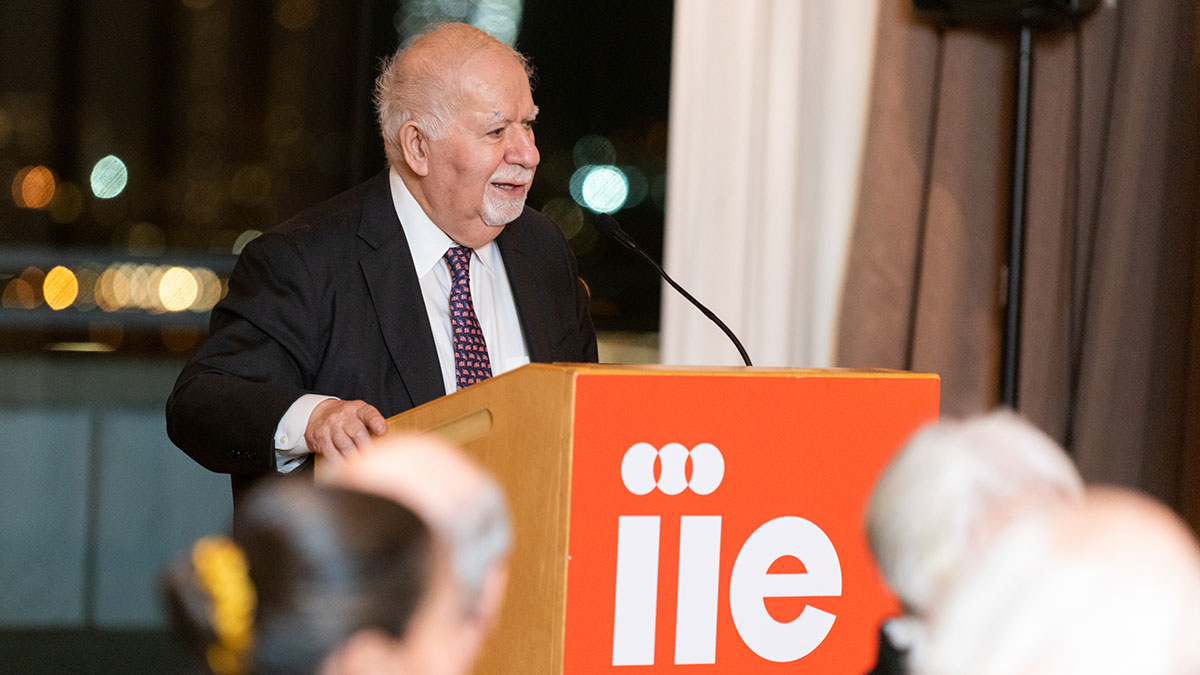 The IIE is the leading global organization administering some of the world's most inclusive and innovative programs in international education and exchange, including the Fulbright Programs of the U.S. State Department, the Language Flagship of the U.S. Defense Department, and the Ford International Fellowships Program. IIE was one of the first advocates for international exchange, pioneering new models of collaboration among colleges and universities across the globe.
"There is no better way to foster diplomatic relations than through people-to-people exchange," said IIE chairman Thomas S. Johnson at the event. "IIE's century-long investment in international education makes the world a safer and more interconnected place, creating stronger global ties and enhancing mutual understanding among nations."
At IIE's centennial celebration events, former British prime minister Gordon Brown received the Henry Kaufman Prize, and Corporation president Gregorian, a former trustee of IIE, accepted a Centennial Medal on behalf of the Corporation. "This is one of the hopes of all educators: that with understanding you can solve differences and build alliances," said Gregorian.
Over the past 100 years, IIE programs have aided thousands of scholars, students, and artists threatened by conflict and turmoil in their home countries. By providing refuge to imperiled scholars, the IIE has helped shape scholarship around the world. "This is an organization that is very much about using education as a diplomacy tool to make the world a better place," said IIE vice chairman Mark Angelson.