Great Scots
Carnegie pride on display at New York's 20th annual Tartan Day Parade
Every day, all over the world, Andrew Carnegie's legacy and teachings are being put into action through the many Carnegie organizations and initiatives founded more than a century ago by the philanthropist. Yet, on a recent Saturday in April, the "Star-Spangled Scotsman," as he proudly called himself, could be seen walking jauntily up Sixth Avenue with thousands of his fellow Scottish Americans. Well, at least a papier-mâché head of Andrew Carnegie, that is.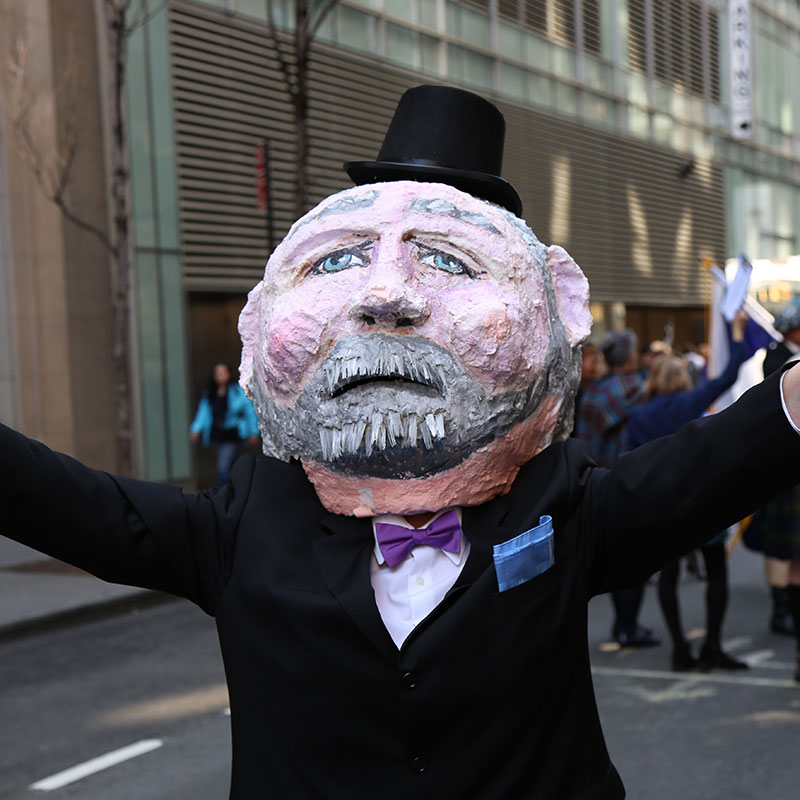 Artist and Carnegie Corporation of New York employee Virginia Mallon-Ackerman created and donned the larger-than-life papier-mâché head of Andrew Carnegie complete with tuxedo, lending some frivolity to New York's Tartan Day Parade. The Andrew Carnegie mascot marched alongside nearly 60 representatives of various Carnegie organizations, including Corporation president Vartan Gregorian.
"It was good fun," said Mallon-Ackerman, who drew inspiration from Mardi Gras, Mummers, and New York parade costumes to create her "jolly" likeness of Carnegie for the event.
This year marked the 20th anniversary of New York's Tartan Day Parade, organized by the American-Scottish Foundation and part of the city's Tartan Week celebrations. And given that 2019 marks the centennial of Andrew Carnegie's death, it seemed like a fitting year for members of the Carnegie family of institutions to come together and rally around the heritage of their founder, one of the most impactful Scottish Americans who has ever lived.
"It was another way to show the Carnegie pride; to let the world know that we're not just Carnegie Hall and Carnegie Corporation, but that there are a number of Carnegie organizations out there," said Corporation chief of staff Jeanne D'Onofrio, who coordinated the efforts.
"It was a beautiful day and a really fun event with Scottish terrier dogs in kilts, bagpipes, and drum bands, and a quite a few Scottish American organizations we didn't know existed. It was great exposure for us within the Scottish American community."
Kilt Trip Thousands participated in New York's annual Tartan Day Parade on April 6, part of a weeklong celebration of Scottish culture and heritage. The line of march included New York Caledonian Pipe Band, Shot of Scotch Dancers, 21st Century Kilts, Highland Divas and Friends, and proud representatives of the Carnegie family of institutions, including Carnegie Corporation of New York, Carnegie Council for Ethics in International Affairs, Carnegie Museums of Pittsburgh, and Carnegie Hall. Highlights of this gallery include: top row, second from left: Vartan Gregorian, president of Carnegie Corporation of New York, with (on his right) Jeanne D'Onofrio, Corporation chief of staff, and Natasha Davids, executive assistant to the president; and bottom row, second from left: the genial man of the hour himself, Andrew Carnegie! … Actually, it's the Corporation's Virginia Mallon-Ackerman, the talented artist who designed — and wore — the giant head of the Corporation's founder, becoming the de facto parade marshal for her contingent. (Photos: Celeste Ford)
The Carnegie organizations that marched included Carnegie Corporation of New York, Carnegie Council for Ethics in International Affairs, Carnegie Museums of Pittsburgh, Carnegie Hall, and Carnegie Mellon University, with others there in spirit.
The Corporation's principal design director, Daniel Kitae Um, conjured up flags, kerchiefs, a banner, and even pom-poms in a design that combined the world peace tartan with the Carnegie Medal tartan, creating a waving sea of light blue, purple, and yellow among the contingent. They walked behind a banner emblazoned with a quote from Andrew Carnegie: "The whole world moves, and moves in the right direction — upward and onward."
"It was wonderful to see Carnegie Corporation, led by Vartan Gregorian, join other Carnegie organizations on Sixth Avenue and march in the New York Tartan Day Parade," said Camilla G. Hellman, president of the American-Scottish Foundation.
"Although they had not marched in the parade before," Hellman continued, "Carnegie Corporation has been involved and helpful in the programming that the American-Scottish Foundation has done around Tartan Week, from an exhibit and panel discussion (led by Gregorian) on Andrew Carnegie at the Finance Museum to a previous talk we had done around The Scots who Built New York project."
The Corporation has also worked closely with the American-Scottish Foundation on other projects over the years, such as a recent lecture by historian and architect John Kinnear entitled "The Scots Who Built New York: Andrew Carnegie's Contributions to Architecture and the Promotion of Ideas, 1855–1919." The talk was a part of Carnegie Hall's ambitious Migrations festival, which explored how the history of America is indelibly linked to the movement of people, some not brought here of their own free will, whose perseverance and resilience transformed the nation.
D'Onofrio says that she sees this year's Tartan Day Parade march as the start of a tradition for the Corporation. "Whenever there is an opportunity to get the Carnegie organizations together, we try and make it happen. We're already talking about floats and costumes for next year."
And that papier-mâché Andrew Carnegie? He's bound to bring more joy in public appearances down the line, but for now he's resting in Vartan's office.