Competing views on the role of philanthropy in today's political landscape took center stage at Carnegie Corporation of New York on Thursday as a panel of leading experts discussed the most pressing issues facing the sector and its role in society. The question at stake: is the unprecedented giving from Americans, billionaires, and ordinary citizens alike proof of the generosity and care of American civil society, or is it a symptom of a larger crisis of democracy?
Karl Zinsmeister, author of What Comes Next? How Private Givers Can Rescue America in an Era of Public Frustration, ignited the lively discussion, claiming that philanthropy is inherently egalitarian, serving as a democratic counterbalance to government power. "Philanthropy is the first crowdsourced industry in this country," Zinsmeister said. "Philanthropy is a mosaic. It's a lot of people working together in local areas with tremendous effect." Later in the discussion he added that philanthropy "is the most radically decentralized sector in our country. This is the place with the least concentration of power of any place you can mention." Zinsmeister believes that philanthropy—a multitude of even disconnected philanthropic groups—is better equipped than government to take on the challenges of the day.
David Callahan, author of The Givers: Wealth, Power, and Philanthropy in a New Gilded Age, was more critical. In his view, government is retreating from many of its traditional roles, and philanthropy is part of the problem rather than the solution. "Anybody who's concerned about civic inequality caused by economic inequality needs to look at the philanthropic center as part of a broad reform," Callahan asserted. "If you're interested in reforming money in politics, you can't leave out philanthropic money." He continued that while philanthropy is generously subsidized by tax payers, philanthropists often don't accurately address the concerns of the people they mean to serve. Without government leadership there will be negative consequences for society: "Increasingly, the wealthy wield a lot more influence in civil society, if you look at the statistics on charitable donations, the donations coming from wealthy Americans have skyrocketed. The amount of donations coming from ordinary Americans has gone down. That reflects inequality."
Zinsmeister countered: it is the politicization of civil society, not money, that is the problem: "Money is overrated. Money is not the decisive influence it is sometimes portrayed as. The amount of money we spend on politics is less than we spend on chewing gum. . . . There is too little money in politics. Not too much. We have insisted on politicizing everything. If you can remove ideas and social projects out of the governmental sector and deal with them in other sectors, that political fire goes out."
Meanwhile, Boston Globe investigative journalist Sacha Pfeiffer added that with virtually no government oversight of philanthropic giving or of the philanthropic sector itself, it is increasingly important for the media to act as a watchdog, making sure organizations meet their objectives, and retain the public's trust. "Even when information is in the public domain, it doesn't mean the public knows how to find it. It's the responsibility of reporters to make sure the information is accessible."
The debate about the role of philanthropy in an ever-changing political climate engaged the audience. About 100 people were in attendance at Carnegie Corporation of New York's headquarters in New York City, and the event was live-streamed on Facebook Live.
After the conclusion of the panel discussion, 2005 Carnegie Medal of Philanthropy recipient Agnes Gund took the stage to announce this year's recipients of the Carnegie Medal of Philanthropy.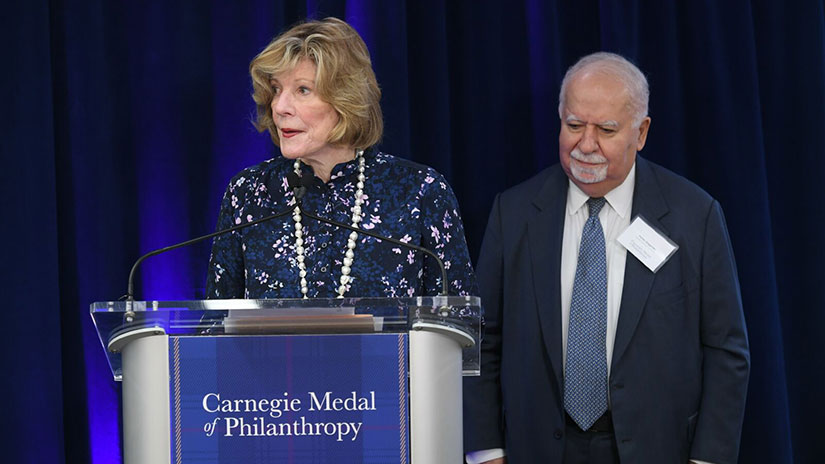 The 2017 honorees are:
• Mei Hing Chak China; HeungKong Charitable Foundation
• H. F. (Gerry) and Marguerite Lenfest U.S.A.; Lenfest Foundation
• Azim Premji India; Azim Premji Foundation
• Julian Robertson U.S.A.; Robertson Foundation
• Jeff Skoll U.S.A.; Skoll Foundation
• Kristine McDivitt Tompkins U.S.A.; Tompkins Conservation
• Shelby White U.S.A.; Leon Levy Foundation
• Sir James D. Wolfensohn U.S.A. and Australia; Wolfensohn Center for Development
The Carnegie institutions will award the medals during a formal ceremony at The New York Public Library's Stephen A. Schwarzman Building on October 3, 2017. Katty Kay, anchor of BBC World News America, will serve as master of ceremonies.
The Carnegie Medal of Philanthropy forum on the challenges facing the philanthropic sector featured: David Callahan, founder and editor of Inside Philanthropy; Sacha Pfeiffer, investigative reporter at the Boston Globe covering wealth, nonprofits, and philanthropy; and Karl Zinsmeister, vice president of The Philanthropy Roundtable. Moderated by Stacy Palmer, editor of the Chronicle of Philanthropy, the June 22 forum was held at Carnegie Corporation of New York's headquarters in New York City.