Millennial Shift
Generation Y is Tapping into its Power as Consumers, Employees and Citizens
Most of them are charitable and have volunteered. They use their cell phones to donate, and see their workplace as somewhere they can make a big difference. They will account for half the workforce by 2020, and outnumber everyone else by 2030.
They are millennials – and foundations, non-profits and others interested in philanthropy are paying close attention to their charitable giving and engagement. Millennials – or Generation Y – are the first group to embrace mobile giving, and are not afraid to support international causes, or use their consumer and political power. But most of them are still at early points in their careers, and their full impact on philanthropy will not be known for years.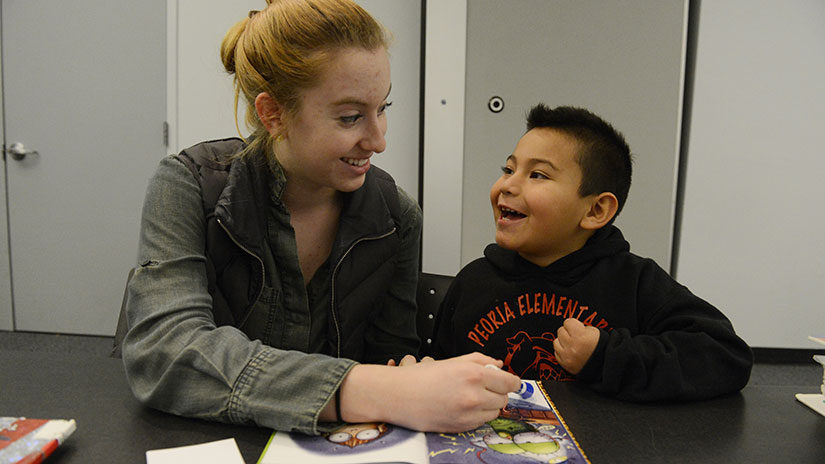 The term "millennial" is used for those born between 1980 and 2000 (some researchers use the early 1980s as a starting point, and the early 2000s as the end point). Their sheer numbers are prompting the philanthropy world to track them closely – in less than 15 years, they are expected to outnumber non-millennials. They are the first cohort to grow up with cell phones and social media, which has greatly influenced the way they approach charity.
"They're the first generation to realize that the minute they make a gift, they can tell 1,000 of their friends in a nanosecond," says Eileen Heisman, president and CEO of the National Philanthropic Trust. "The idea that you're going to tell the world immediately is a way to invite people to give, a way to highlight a cause."
In 2014, 84 percent of millennials made charitable donations, and 70 percent said they spent at least an hour volunteering, according to research by the Achieve group. Millennials are particularly interested in giving to marginalized or disenfranchised groups, and supporting causes that promote equality, equity, and opportunity, the study found.
They are also very engaged in global causes and the environment, says Una Osili, research director at the Lilly Family School of Philanthropy at Indiana University.
"Those are two sectors that are relatively new to charitable giving and relatively small compared to say, religion or education giving," she says. "But that's an area that they've shown a lot of interest in."
What Three Social Issues Interest You Most?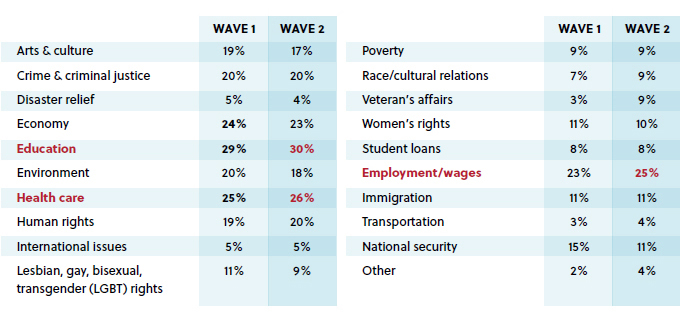 Experts say millennials also know how to leverage their consumer power. They are more likely to buy brands they believe are giving back, whether that be TOMS shoes or Warby Parker eyeglasses. Osili and others point out it is important to research how effective such companies are in giving back, however, and evaluate the impact of their claims.
"Some 'cause' marketing campaigns have been less effective and there is also a question about how much actually goes to charity versus the company," she says. "But overall, the idea that you can have impact, not just through charitable giving, but through a range of consumption and investment decisions, is very attractive to millennials. They want to work in companies that are involved in social good and buy from companies that are good corporate citizens and good community members."
Millennials will make up half the workforce by 2020. They see their workplaces as the arena where they can be most influential, according to a Deloitte survey. Another study found 64 percent of millennials will not work for an employer that does not have strong corporate social responsibility values. Derrick Feldman, who founded Achieve and is the lead researcher of the Millennial Impact Report, says millennials have put pressure on companies not only as consumers, but as employees.
"Millennials are looking for companies to stand up for something and to make it clear that they should be standing up for certain issues and rights of individuals," he says, "not just for their consumers, but for the betterment of their communities, neighborhoods and employees who live in those neighborhoods."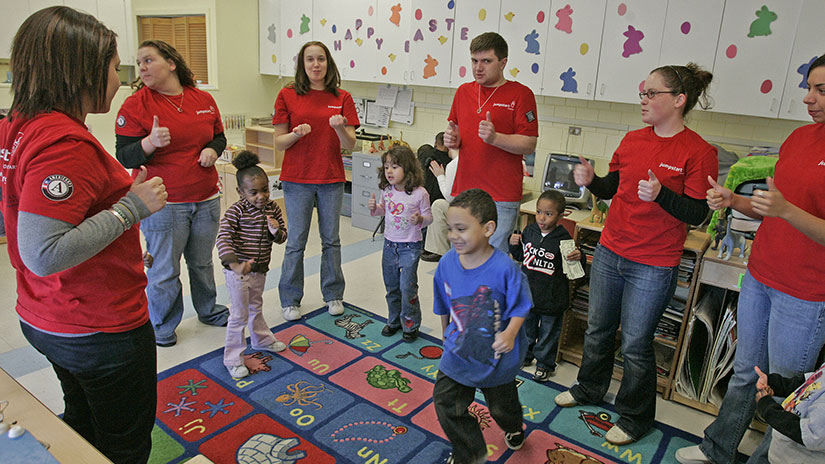 Researchers say millennials are also exercising their power as citizens, and engaging in philanthropy in response to political events. The 2016 Presidential election prompted many of them to get even more involved, they said. The 2017 Millennial Impact Report found their cause engagement increased in the first quarter of 2017, compared to the last quarter of 2016.
"I think charitable giving is a manifestation of how you look at the world and your political views," Heisman says. "You are supporting what you believe in."
Feldman, from Achieve, says another key characteristic that distinguishes millennials is that they view all of their assets equally, whether that be their money, their time, or their networks. They do not see themselves as donors or volunteers, but as supporters of a particular cause or issue, he says. Organizations such as the ACLU, Amnesty International and ONE are aware of this, and incorporate grassroots movement building and participation into their strategy before ever asking for money, he says.
Most millennials are still early in their careers, so their long-term impact is yet to be determined. Many are getting jobs and building families later than the previous generations, and have not reached their peak income. The jury is still out on what impact they will have – but the philanthropy field is watching with close attention.