Mike Bloomberg is a man who never knowingly takes the easy route. He could put his feet up and live the good life. Instead he has habitually done the exact opposite, heading straight into challenges because the world could be better for it. Many of his efforts may have seemed foolhardy at the time, but now look to be the choice of an inspired genius. His approach throughout his life has been assertively singular. He has tried on every political party for size, for instance, finally settling on being "independent". But behind the tough New York politician is a genuinely caring man.
Bloomberg's success grew from failure, and a desire to do something different, something that no one else had tried. Having lost his job at Wall Street's Salomon Brothers due to restructuring, he decided not to jump back into the world of finance as might have been expected. Instead, he invested his money in the burgeoning information technology industry, and what is now known as Bloomberg LP was born. By bringing a new level of transparency and efficiency to buying and selling, the company revolutionized the industry, and what was once a one-room office in New York has since become a worldwide company with over 15,000 employees.
Bloomberg proved himself to be up to the challenge of a totally new job once, so why not do it again? And what could be tougher than creating a totally new start-up? Perhaps running for mayor in one of the most politically challenging places in the world, and this was precisely what Bloomberg of course did. In 2001 Mike Bloomberg was elected the 108th Mayor of New York City. He governed with a mixture of brashness and compassion, a good mirror to the city itself, and reliably rose to the unique challenges the city presented. Much like in his earlier triumph, it was his innovative outlook that made his tenure so successful. His savviness in business helped the city weather the deep national recession better than any other metropolis in the country. And his passion for the well-being of New Yorkers resulted in public health and climate change policies that have since served as a model for the nation. He clearly could not get enough of the challenge, staying on through a third term before moving on to even bigger things.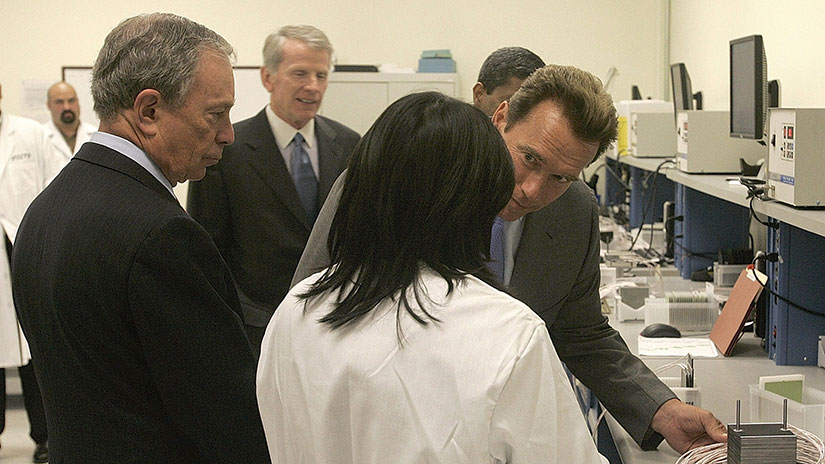 Yet again at this point, Bloomberg had the opportunity to relax. After twelve years as the mayor of the city that never sleeps, he had certainly earned a break. But it was a break that he had no interest in taking. Along with going back to Bloomberg LP, he turned his focus to Bloomberg Philanthropies, which dealt with many of the issues he tackled as mayor – public health, arts and culture, the environment, education and government innovation. In addition, he has contributed more than $1 billion to Johns Hopkins. The University's School of Hygiene and Public Health – the largest public health facility in the U.S. – is now the Bloomberg School of Public Health. Bloomberg also leads a number of bi-partisan coalitions that are taking action on urgent national and international issues, and in 2014 he was appointed to be the UN Secretary-General's Special Envoy for Cities and Climate Change.
To date, Bloomberg has donated nearly $5 billion to a wide variety of causes and organizations, with Bloomberg Philanthropies donating billions more. The world is always confronting new challenges, and Mike Bloomberg will certainly keep on facing them head on.