When Hurricane Harvey slammed Southeast Texas, Heather Harrison booked it from suburban Sienna, Texas to downtown Houston to help her fellow Texans as soon as she could.
After hearing the Houston Food Bank was in need of volunteers, Heather spent an exhausting 86 hours volunteering over 10 days.
Based on an estimate from the Houston Food Bank, Heather alone provided an incredible 5,160 meals in just 10 days.
Though the Houston Food Bank received gifts from over 40 countries and from all 50 states, Heather's heroic effort caught the attention of the Food Bank's Chief Development Officer, Amy Ragan, who says Heather is a true giving hero.
Heather recounted her experience on Facebook and said to her friends, "Houston we're strong. Sienna we're strong. Let's keep going with that strength. Let's do it all year round. Not just when there's a disaster. Find where your place is, and let's give back."
While she's back to her regular job, we're pretty sure Houston Food Bank hasn't seen the last of Heather.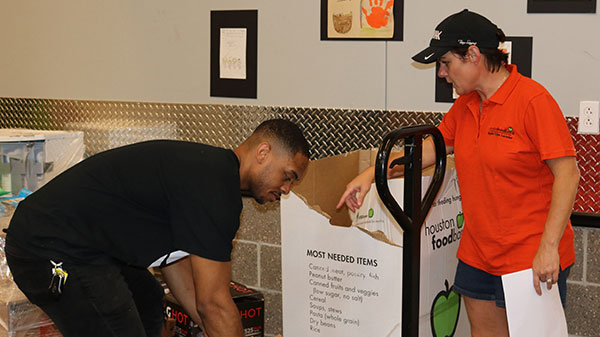 Heather Harrison