Andrew Carnegie's "Dinosaur Diplomacy" Continues to Inspire
Dippy, the world's most famous dinosaur skeleton, may call Pittsburgh home, but a full-scale plaster copy of the huge beast is wowing crowds in the U.K.
It's January in Glasgow, Scotland, where four technicians and two conservators are crouched on the marble floor at the Kelvingrove Art Gallery and Museum, carefully piecing together an ancient jigsaw puzzle of sorts. For five days visitors gathered on balconies flanking the dramatically vaulted room watching the work. Before their eyes, 292 plaster bones were transformed into Diplodocus carnegii, a 14-foot-high, 14-foot-wide, 70-foot-long dinosaur skeleton filling the massive Center Hall, where it will hold court through May 6. Meet "Dippy," as he is better known, the most famous dinosaur in the U.K.
Dippy's arrival in Scotland, Andrew Carnegie's birthplace, comes after three stops across the U.K., and prior to that, 12 months of careful work by conservators to prepare the huge — but delicate — object for its epic journey. The magnificent plaster of paris skeleton has never before traveled from its home in London's Natural History Museum, not since 1905, when it was first unveiled there — the gift of Andrew Carnegie to the British people.
"Dippy is an enduring embodiment of Carnegie's legacy and mission," says Eric Dorfman, the Daniel G. and Carole L. Kamin Director of Carnegie Museum of Natural History in Pittsburgh, where the original dinosaur skeleton resides. "He is a beloved treasure because he connects us vividly to Earth's distant past. Thanks to Carnegie, millions of people have engaged with Dippy intellectually, in the name of science, and emotionally, in the name of wonder."
"Dippy is an enduring embodiment of Carnegie's legacy and mission. He is a beloved treasure because he connects us vividly to Earth's distant past. Thanks to Carnegie, millions of people have engaged with Dippy intellectually, in the name of science, and emotionally, in the name of wonder."

— Eric Dorfman, Director, Carnegie Museum of Natural History, Pittsburgh
Free to the public at each of its eight stops, the exhibition Dippy on Tour: A Natural History Adventure will travel to every region of the U.K. Just as Andrew Carnegie envisioned when he gifted the cast copy of the original skeleton to the British, Dippy on Tour is meant to spark curiosity about the natural world while helping to bridge differences between peoples with a frankly awe-inspiring symbol of our common history on this planet.
"Dippy has acted as an ambassador for the natural world," observed Sir Michael Dixon, director of the Natural History Museum, during the opening of the Glasgow exhibition on January 22.
"We are thrilled that Dippy has once again made it safely across the Irish Sea and has now arrived at Kelvingrove Museum in Glasgow. Dippy on Tour has so far seen record visitor numbers at the three previous venues," said Dixon, referring to Dorset County Museum in England's South West, Birmingham Museum and Art Gallery in the West Midlands, and Ulster Museum in Belfast, Northern Ireland. Carnegie's dinosaur is indeed a phenomenon on the road. In Dorset, Dippy was crowned "tourism champion," and for the stop in Glasgow, Kelvingrove's website urges visitors to use public transit to get to the museum because Dippy has proved so popular that "our car park is full from early morning at weekends."
Dippy's three-year tour throughout the U.K., its "natural history adventure," aims to introduce 1.5 million people to this fascinating specimen of evolutionary history in an effort to inspire not only the next generation of scientists but to encourage families to set off on their own natural history adventures. The Kelvingrove exhibition includes information about animals currently under threat, and the steps being taken to protect them through conservation and re-wilding. The museum is also organizing a series of events to encourage visitors to explore its incredible natural history collections and to learn about the "biodiversity right on your doorstep in Glasgow."
Stateside, the original Dippy, a composite skeleton of bones excavated in Wyoming in 1898, has been on display at Carnegie Museum of Natural History in Pittsburgh since 1907. Thought to be between 152 and 154 million years old and perhaps the most famous dinosaur skeleton in the world, the Pittsburgh Diplodocus serves as a beloved mascot for both the museum and the Steel City.
"Carnegie shared knowledge. He did not secret Dippy away after the discovery. He shared him with the world," said Eric Dorfman. "For many people, Dippy is the definitive dinosaur, the image they imagine when they hear the word. Here at Carnegie Museum of Natural History, where the real Dippy is on view, hundreds of thousands of people of all ages get to marvel at him every year."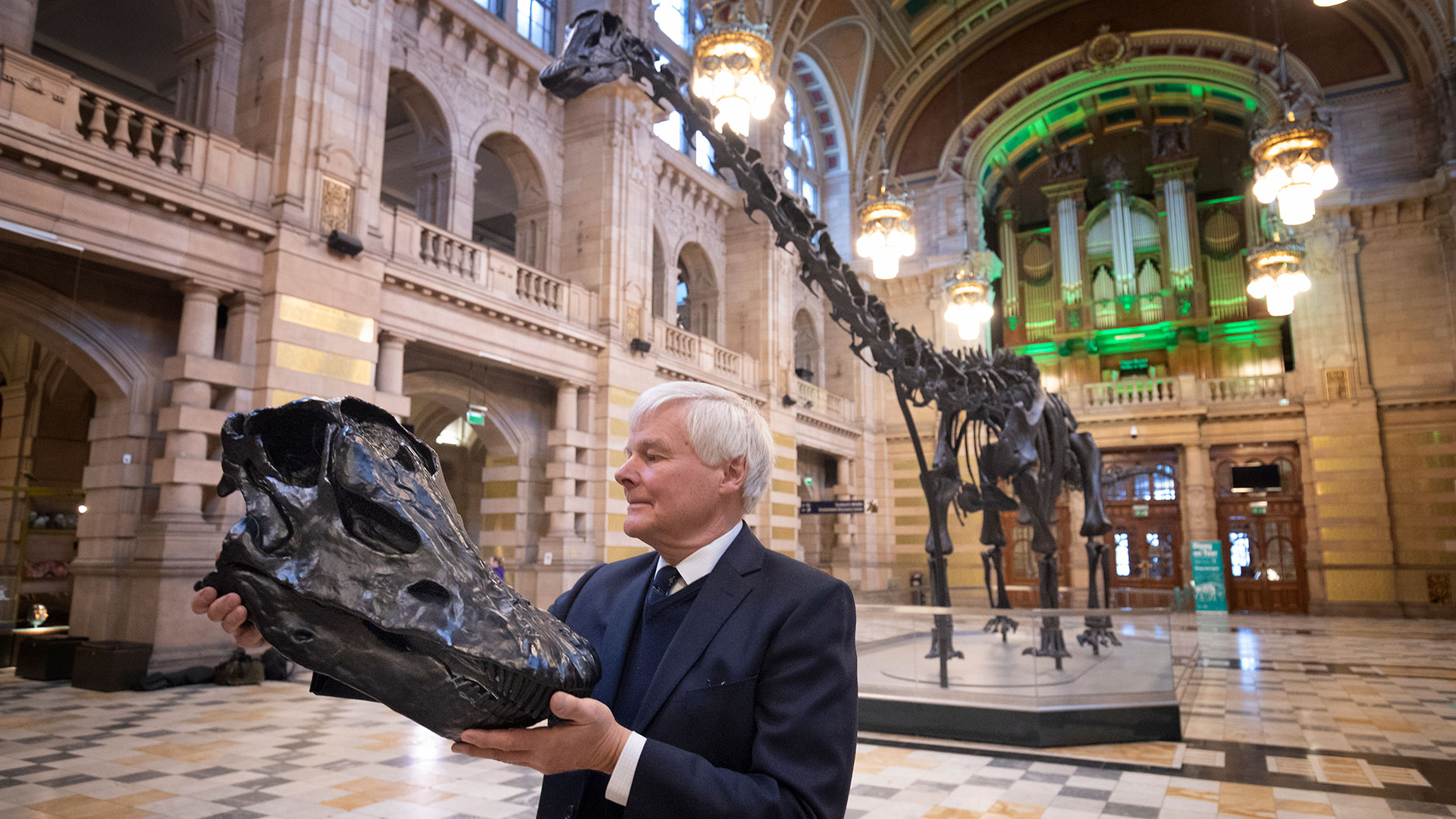 But Dippy is not simply a gateway to learning about science and our natural world. As William Thomson, Andrew Carnegie's great-grandson, pointed out at the Kelvingrove Museum opening, Diplodocus carnegii was seen by his great-grandfather as "a symbol and an opportunity."
"By gifting copies to the heads of state of seven other countries as well as the U.K., Carnegie hoped to demonstrate through mutual interest in scientific discoveries that nations have more in common than what separates them," he said.
"He used his gifts," Thomson continued, "in an attempt to open inter-state dialogue on preserving world peace — a form of Dinosaur Diplomacy! Replicas of Diplodocus carnegii are still on display in some of the most famous natural history museums in Europe, but sadly the wellspring of their united history has been largely forgotten. The exhibition sheds some light on this remarkable story."
An ardent evolutionist, Andrew Carnegie funded paleontology expeditions to the western United States. One such dig uncovered fossils in a Wyoming quarry that would be named Diplodocus carnegii in honor of the expedition's benefactor. The specimen that was crafted from those fossils has proved to be incredibly important to science as it became the holotype, the original specimen upon which its species is based. Carnegie funded full-size cast models of that Diplodocus dinosaur and gifted them to museums around the world. His goal was twofold: to spread the advances that scientists were making in their understanding of the natural world, but also to celebrate our shared history and findings, both objectives serving in his eyes as a form of diplomacy.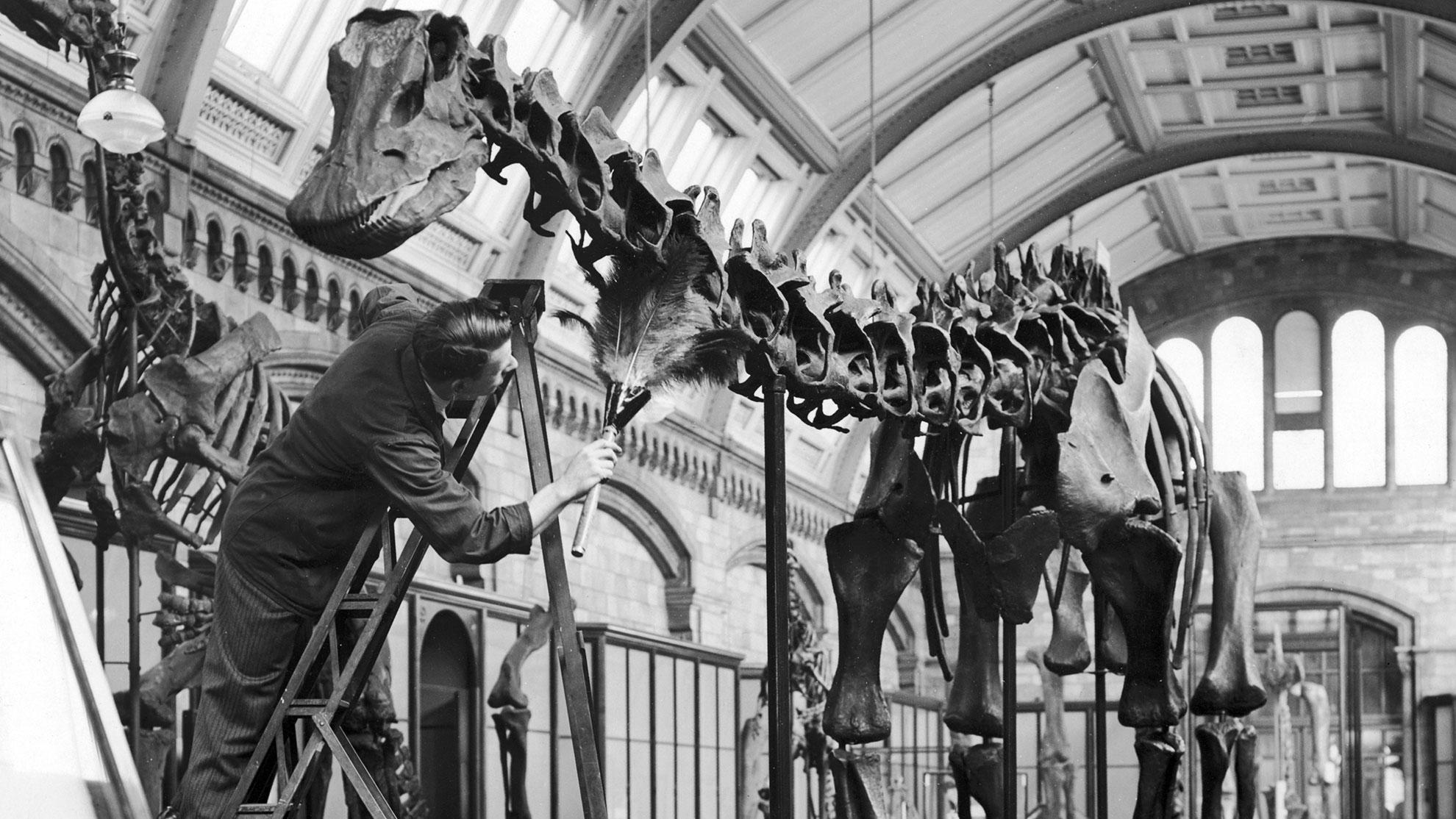 Carnegie believed that celebrating our shared interests and the commonalities between nations would promote peace and understanding around the world, a noble cause at the very core of all of his philanthropic endeavors. A century after his death that work continues in the many philanthropic and educational organizations he founded.
"Carnegie's legacy endures in the empowerment of people and the sharing of knowledge," says Dorfman. "He understood how democracy and equality depend on access to knowledge, to culture, to education. Dippy's U.K. tour, sharing this wonder with people who might otherwise not have access, is a proper tribute to Carnegie."
After Dippy's current residency in Scotland at the Kelvingrove Museum, the dinosaur will be carefully dismantled and packed up to continue on its grand tour. Following Glasgow, Dippy's upcoming venues are:
Today, Norwich Cathedral, where Dippy on Tour concludes, serves as a place of both worship and learning, and is a fitting setting to bridge the scientific and spiritual questions that arise when contemplating our ancient evolutionary past.
"The presence of Dippy in Norwich will naturally bring people from all backgrounds and beliefs and will stimulate questions and debate about creations and the origins of life as well as some of the major issues facing humanity today," said Jane Hedges, the cathedral's dean. "It will prompt people to think about aspects such as climate change and food production."
For Professor Eric Cross, dean of cultural affairs at Newcastle University, Dippy's residency in the north of England provides a timely opportunity for scholarly research and discussion around environmental issues. Dippy's visit, he says, "will help illustrate some of the key global challenges such as sustainability and climate change that are central to the University's research."
The Diplodocus carnegii cast has been the imposing star of Hintze Hall at London's Natural History Museum since 1979, although his appearance has changed over the years to reflect advances in our understanding of dinosaur biology and evolution — most recently in 1993.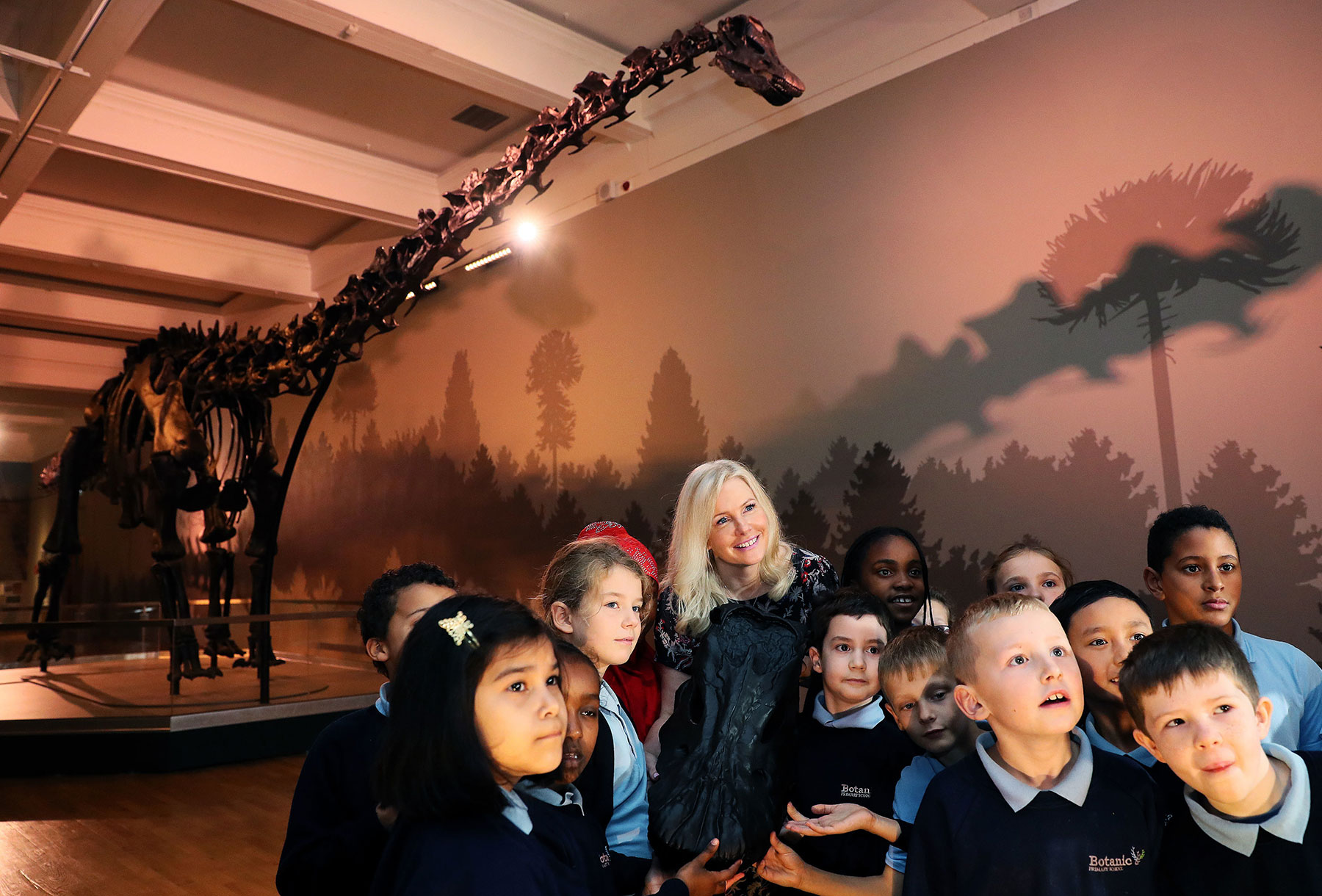 Andrew Carnegie's remarkable philanthropic legacy has also continued to evolve over the years through the ever-evolving work of the organizations he founded. The challenges these institutions address are some of the most intractable and urgent of our time. In this centennial year of his passing, Carnegie institutions worldwide are hosting Forging the Future, a series of events celebrating his commitment to doing "real and permanent good in this world," while also working to sustain his vision and his legacy into the 21st century.
The wildly popular Dippy on Tour exhibition is part of the Forging the Future series, which commemorates and expands upon Andrew Carnegie's lasting achievements in peace, education, the arts, science, culture, and philanthropy. The Forging the Future series will culminate with the Carnegie Medal of Philanthropy awards ceremony in New York City, on October 16, 2019. Dippy will definitely be there in spirit.