Pittsburgh shaped Andrew Carnegie as a young man. In return, Carnegie endowed the city with a bounty of museums, libraries, and other institutions. These stand as testament to his philanthropic vision of doing "real and permanent good in this world," enriching the City of Pittsburgh while demonstrating that Carnegie's legacy remains vital and flourishing into the 21st century. The four Pittsburgh-based Carnegie institutions — the Carnegie Hero Fund Commission, Carnegie Museums of Pittsburgh, Carnegie Library of Pittsburgh, and Carnegie Mellon University — came together recently in the Steel City to mark a special milestone in the history of civilian acts of heroism. Such acts carried a profound resonance for Andrew Carnegie, who established the Carnegie Hero Fund Commission in 1904 to honor those "heroes of civilization," ordinary men and women who risk or sometimes even lose their own lives attempting to save the life of another.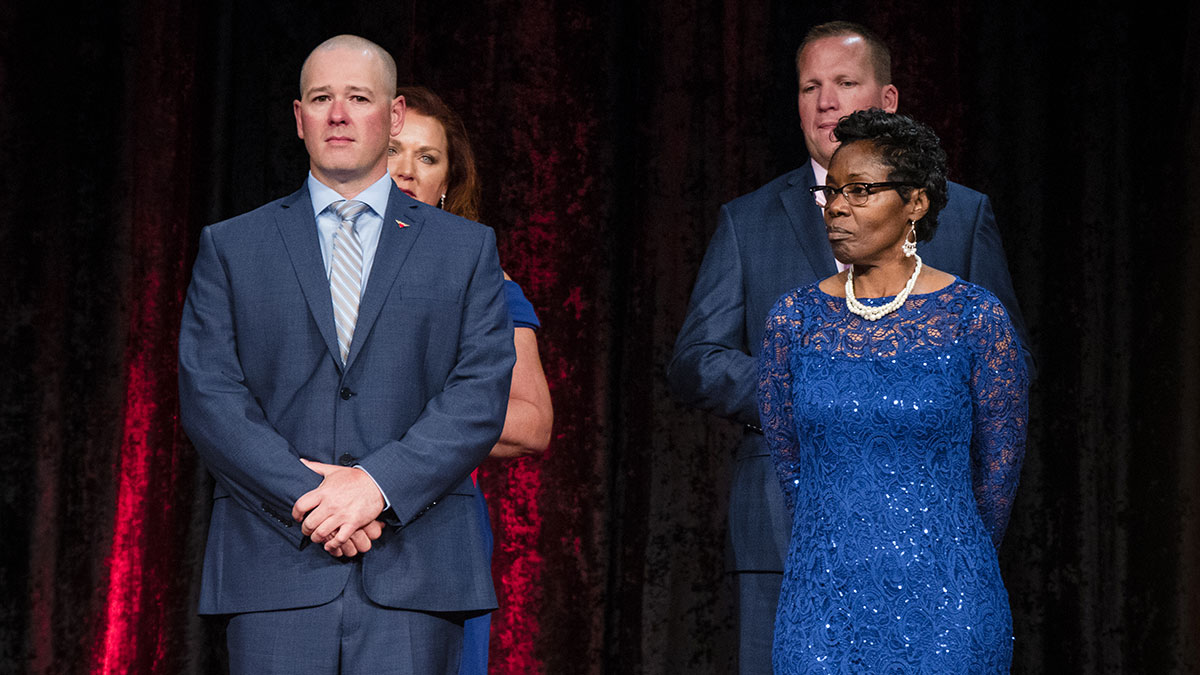 Understanding Altruism
On June 12, at the Allegheny HYP Club in Downtown Pittsburgh, a special luncheon was held honoring Vickie Tillman and Jimmy Rhodes, respectively the 10,000th and 10,001st Carnegie Hero. The featured guest speaker was Abigail Marsh, distinguished professor of psychology at Georgetown University and author of The Fear Factor: How One Emotion Connects Altruists, Psychopaths, and Everyone In-Between, described by the Wall Street Journal as a "compelling scientific detective story." Marsh is working to better understand why individuals like the Carnegie Heroes go to such extraordinary lengths to help others, why some individuals exhibit higher levels of altruism. Through her work with the Carnegie Hero Fund Commission and the recipients of the Carnegie Medal, as well as with other exceptional individuals, Marsh is hoping to normalize courageous behavior, ultimately building a world in which more of us will be empowered to behave altruistically.
A Multifaceted Legacy
Later that evening, representatives of the Carnegie institutions convened at the Carnegie Music Hall for a gala event, helmed by NPR host Scott Simon. After acknowledging Tillman and Rhodes for their acts of bravery, Carnegie Museums of Pittsburgh president Bill Hunt paid special tribute to Andrew Carnegie's commitment to making art and culture accessible to the public. "The gift of Carnegie Museums is just one of countless measures Andrew Carnegie took to ensure that education and culture would be accessible to the many, not just the few," he said.
Carnegie Hero Fund Commission chairman Mark Laskow invoked Carnegie's ideas about civilian heroism — ideas that remain vital nearly 100 years after the philanthropist's death. For Laskow, the Hero Fund highlights some of the most personal and intimate decisions that an individual can make, exemplified by Carnegie Heroes past and present. "The values of heroism and altruism that shine through these acts are important threads in the fabric of our culture," said Laskow. "The Hero Fund is here to add their stories to our national discussion about who we really are."
Farnam Jahanian, president of Carnegie Mellon University (CMU), cited Carnegie's bold vision, commitment to inclusion, and rational approach to solving some of the world's most vexing problems as an enduring source of inspiration for Carnegie Mellon University and its students. The founder, he said, was "unapologetically ahead of his time, committed to seizing opportunities and being resilient in the face of a rapidly expanding world."
Mary Frances Cooper, Carnegie Library of Pittsburgh president and director, honored Carnegie's lifelong pursuit of knowledge. While young Carnegie received little formal education, he was a voracious reader from an early age and remained so throughout his life. His reverence for books shaped his belief that there was no better investment for a community than that of a free public library. "Carnegie's particular brand of philanthropy reflects the fundamental need in people, and our individual and collective desire, to do the right thing," Cooper said of Carnegie's faith in the individual's capacity to learn and evolve.
The Heroes Roll of Honor
Eric P. Zahren, the Carnegie Hero Fund Commission's president and secretary, underscored the enduring power of the individual to effect change in the world. In his lead-up to the unveiling of the Carnegie Heroes Roll of Honor, Zahren said: "Perhaps Carnegie, above all, hoped that we would see the power of each one, imperfect as we are, to make a difference, to change the world. For one moment and for all time. To see, to recognize, and to embrace the undeniable power of one." Throughout the 114 years since the Carnegie Hero Commission Fund was established, more than 10,000 Carnegie Medals have indeed been awarded and many millions have been disbursed in one-time grants, scholarship aid, death benefits, and continuing assistance. But most importantly, the Fund keeps the heroes' stories alive, ensuring that their acts of personal bravery will ripple across generations.
Everyday Heroes
Following the unveiling, Scott Simon introduced Academy Award-nominated actor and Pittsburgh native Michael Keaton. The superhero of the Silver Screen honored the everyday heroes who walk among us. "The common denominator of heroism is courage," said Keaton, adding that "courage shows up all the time in this world and often without any fanfare."
The next Forging the Future event will honor Andrew Carnegie's legacy as a peacemaker and highlight the Carnegie institutions that continue to work toward world peace. The Carnegie Peacebuilding Conversations will take place at the Peace Palace in The Hague from September 24 to 26. The event will bring together experts from Carnegie institutions and elsewhere for a series of panel discussions on the most pressing issues of the day, including ethics in peacebuilding, health and peace, artificial intelligence, security of natural resources, and financing peace.