Henry John Heinz once said, "Make all you can honestly; save all you can prudently; give all you can wisely." Pittsburgh, the United States, and the entire world can be thankful that his descendants have continued to heed those words. Following the example set by H. J. Heinz, the family has been a leading light in public service and philanthropy for nearly 150 years. While many immediately associate the Heinz name with ketchup and condiments, it is perhaps their giving spirit that they should be most known for.
H. J. Heinz started packaging food in 1859, and instead of using the standard green glass, he opted for clear glass jars, in order to showcase his horseradish's freshness. This sort of innovative thinking, as well as the importance of the purity of product, were to be hallmarks of the Heinz name. As the company grew, Heinz made it clear how much he valued his workers, providing unheard of amenities, including medical care, recreational facilities, and educational opportunities. Not to mention weekly manicures for the women. Beyond his own company, Heinz sought to ensure safety in packaged food, pushing for federal regulations in the food's production, labeling, and selling. His efforts resulted in the Pure Food and Drug legislation, which paved the way for today's Food and Drug Administration.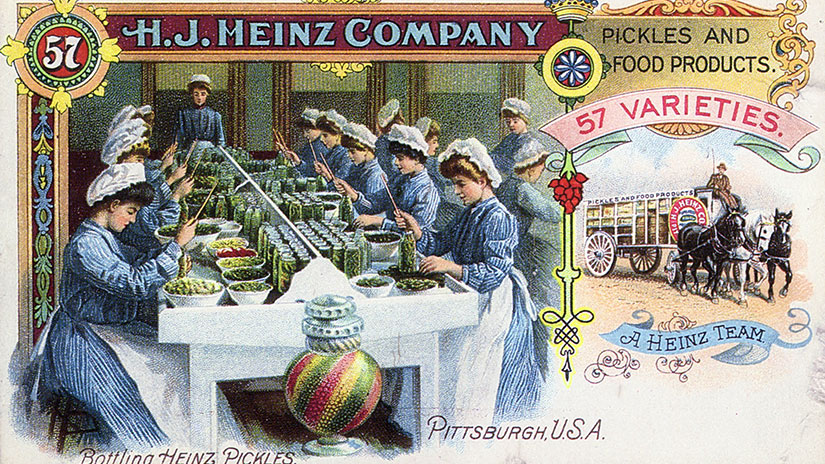 A vintage colour illustration featuring an assembly line of ladies bottling Heinz pickles, advertising H J Heinz Company 57 Varieties, circa 1900. (Photo by Popperfoto/Getty Images)
The Heinz family patriarch made it clear how important it was to contribute to society, and the following generations manifested this idea in a plethora of ways. Public service is a reoccurring theme, and with each family member, it reflected personal passions and concerns. Inspired by his father's effort to work with the government to ensure food safety, Howard Heinz saw public service as a critical part of being part of the family. While assisting with Middle Eastern famine-relief efforts during World War I, he witnessed the start of the Armenian genocide and was deeply affected. He soon sent a dispatch to President Wilson requesting military intervention to stop the bloodshed, and continued to advocate for the cause after finishing his service. Seeing this suffering no doubt impacted his work during the great depression, when the Heinz Company made it their mission to provide affordable and healthy food to many struggling families. During World War II, Howard's son Jack led the company as president, and followed in his family's footsteps, providing aid to the United Kingdom for food shortages, and converting the Pittsburgh plant to help the US manufacture gliders for the war. And while Jack's son, H. John Heinz III, didn't follow the family into business, he continued the legacy of public service. He served in the Air Force Reserve before going into politics, serving as both a Representative and a Senator for his home state of Pennsylvania.

Three women Margaret Nagy, Grace Slomer, and Irene Hays assemble an airplane part in an H.J. Heinz aircraft factory. | Location: H.J. Heinz factory. (Photo by Library of Congress/Corbis/VCG via Getty Images)
Mirroring the varieties of Heinz products, the family has shown that no matter what your passion or cause, there are ways to contribute. And while many of the men of the family worked with the government, the women had just as significant an impact in creative and unique ways. Vira I. Heinz was well aware of how fortunate she was to travel, seeing it as a life-changing and eye-opening experience. The confidence she gained from traveling played no small part in her status in a male-heavy world, becoming the first woman on the HJ Heinz board of directors and first woman trustee at Carnegie Mellon University. With this in mind, she started a program to sponsor female students to study abroad, initially writing out the checks herself before eventually administrating it from University of Pittsburgh's Center for International Studies. And the program continues to this day, continually inspiring new generations of women.
In addition to the grants, funds, and research that the Heinz family has funded (and continues to fund), awards have been a way for the family to support and acknowledge the impact of others. Drue Heinz, wife of H. J. Heinz II, has been a major patron of the arts, not only publishing the Paris Review, but creating the prestigious Drue Heinz Literature Prize for Short Fiction. In addition, there are the esteemed Heinz Awards, founded by Teresa Heinz to honor the memory of her late husband, U.S. Senator John Heinz III. In this way the Heinz family continues to laud innovation and public service, both within the family and outside of it.
With hard work and ingenuity paving the way to success, HJ Heinz and Andrew Carnegie definitely have a lot in common. And while Carnegie's philanthropic work lives to inspire through institutions, the Heinz family is staking their legacy on generations who have found different and inspiring ways to give back. While not quite 57 varieties, the scope of their giving is incredible, and the commitment to philanthropy is the tie that binds.