Research on Philanthropists and Effective Giving
The Carnegie Medal of Philanthropy commissioned Portland Communications to conduct research about perceptions of philanthropy and effective giving among target audiences.
The first phase of the research was an audit of the digital and social media landscape. This established a baseline of how philanthropy and effective giving are viewed.
The second phase focused on understanding the perceptions of professionals working in the philanthropy sector in the United States. This group provided a broader perspective on the sector and the importance of effective giving in day-to-day experiences. The research approach involved running 100 computer-assisted telephone interviews.
The final phase of the research focused on interviewing the wealthiest 0.1 percent, including Carnegie medalists, notable philanthropists, and other high-net worth individuals. The in-depth interviews allowed Carnegie to explore perceptions of philanthropy and gain perspective on effective giving.
The overall findings illustrated the most common motivations driving philanthropists and how they choose to interact with the philanthropy sector. Most importantly it allowed Carnegie to understand how to help future philanthropists find their motivations for giving in an incredibly diverse philanthropic landscape.
A review of publicly available data on philanthropy and philanthropists
February 2017
An audit of social media conversations re: "philanthropy"
February 2017
An audit of wider media conversations re: "philanthropy" and similar terms
February 2017
100 x CATI with individuals who work in the U.S. philanthropy sector
March 2017
8 x 30–45 minute telephone interviews with nominees/medalists of the Carnegie Medal of Philanthropy
March 2017
11 x 30–45 minute telephone interviews with wealthy individuals who are involved in Philanthropy
March 2017
1. Philanthropists told us that "strategic" philanthropy is important; many of them are mindful of having an impact …
of the U.S. philanthropy sector are very interested in hearing about effective giving strategies in philanthropy
---
The majority set clear objectives
Most measure and evaluate success, although methods tend to be variable and subjective
Many subscribe to the idea of performance-related contributions
2. There are a handful of topics around which philanthropists consistently converge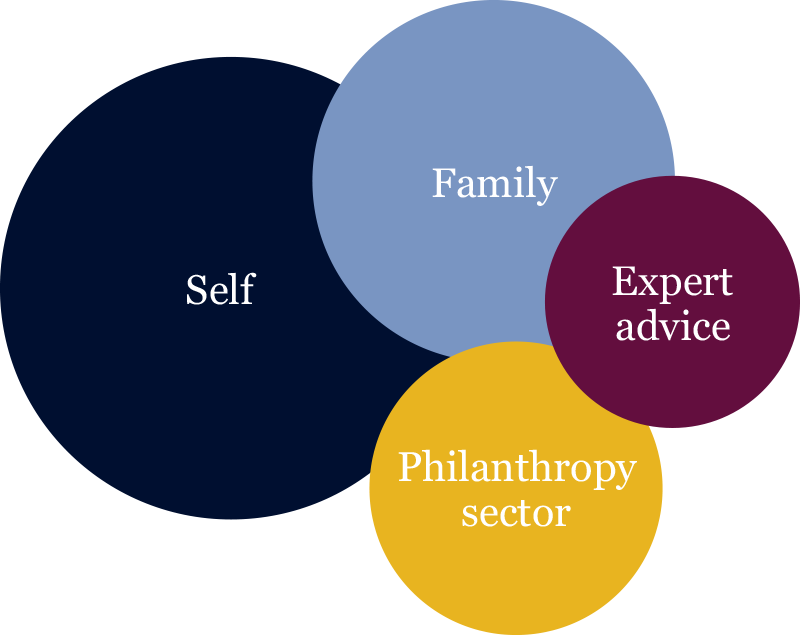 Philanthropists tend to be idiosyncratic, independent thinkers who take pride in developing their own ways of contributing. Our strategy should work to recognize and celebrate those qualities.
3. But they were incredibly energized about the idea of inspiring a broader network of philanthropists
Inspiration for Others
Ultimately they were motivated by the idea of inspiring a broad range of people to become philanthropists — now and in the future
Individual Stories
Given the broad range of causes and approaches, there was agreement that new philanthropists should share their motivations
Innovation and Creativity
There was greatest interest in hearing about philanthropists who had adopted unique approaches to their work
Diverse Focus
There was a feeling that up-and-coming philanthropists should cover a broad range of causes, regions, and levels of philanthropy
Further Details
Setting the Scene: The Journey of a Strategic Philanthropist
Setting the Scene
The philanthropists we interviewed talked us through their approaches to giving and how they evolved over time.
The vast majority of them had adapted and developed their approaches in an effort to make them more effective — and ultimately more satisfying.
We identified a number of clear stages in this giving journey, with the final stage being "strategic philanthropy." (It is important to note that individuals do not always progress through each stage.)
Understanding this journey helps us to better understand the mind-set of philanthropists and identify when and how we can engage with them in the future.
An Overview of the Journey of a Strategic Philanthropist
Further Details
Key Influences on the Work of Philanthropists
The Independent Philanthropist
As part of our research, we wanted to identify the external influences that impacted the philanthropists and their giving — influences that we could potentially tap into.

Always on the alert for spontaneous leads, we continued to probe and prompt at each stage of the journey.
We discovered that only limited conversations are currently taking place, with very few sources referenced. This reinforces the idea that philanthropists are independent by nature. They follow their instincts. They make their own way.